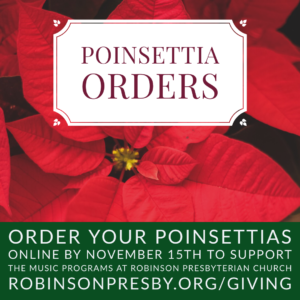 This year our poinsettia orders will look a little different! You will still be able to order from an assortment of poinsettia offerings, but the orders will all be taken online this year
here
. Chose the poinsettia option in the "Fund" drop down box and then chose your order. You will also need to include any dedications for "in honor of" or "in memory of" on your order form.
Poinsettia orders are due November 15th!
All proceeds from the Poinsettia Sale go to support the RPC Music Programs.
Welcome!
Who are we?
We invite everyone to join our community of faith and worship with us. We are vibrant, active, diverse group of people who have been saved by grace and embrace Jesus Christ as our Lord. Our missions and outreach are a cornerstone of our faith along with our ministry through music.

Oct 25, 2020

2020-10-25 – Todd Hobbie – Little Arenas

Oct 18, 2020

2020-10-18 – Todd Hobbie – The Tower of Babel

Oct 11, 2020

2020-10-11 – Todd Hobbie – Blushing

Oct 4, 2020

2020-10-04 – Todd Hobbie – World Communion

Sep 27, 2020

2020-09-20 – Todd Hobbie – The Ox Slipped

Sep 20, 2020

2020-09-20 – Todd Hobbie – Do Not Covet: The Tenth Commandment

Sep 13, 2020

2020-09-13 – Todd Hobbie – A Homer for Gomer

Sep 6, 2020

2020-09-06 – Todd Hobbie – Do Not Commit Adultery

Aug 30, 2020

2020-08-30 – Todd Hobbie – Sighs too Deep for Words

Aug 23, 2020

2020-08-23 – Todd Hobbie – Create or Kill