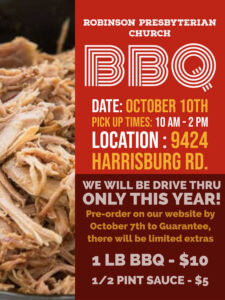 This year our BBQ will look a little different! The BBQ will be October 10th from 10 AM to 2 PM. You will be able to pick up your BBQ by drive thru service. We will only be selling BBQ by the pound and 1/2 pints of sauce. We ask that you pre-order by October 7th to guarantee your BBQ, as there will be limited extra. You can pre-order under our Giving tab. Select the BBQ option from the drop down menu, then type in your last name and your order. Add your payment information and submit!
All proceeds from the BBQ go to support the Charlotte Rescue Mission.
Welcome!
Who are we?
We invite everyone to join our community of faith and worship with us. We are vibrant, active, diverse group of people who have been saved by grace and embrace Jesus Christ as our Lord. Our missions and outreach are a cornerstone of our faith along with our ministry through music.

Sep 20, 2020

2020-09-20 – Todd Hobbie – Do Not Covet: The Tenth Commandment

Sep 13, 2020

2020-09-13 – Todd Hobbie – A Homer for Gomer

Sep 6, 2020

2020-09-06 – Todd Hobbie – Do Not Commit Adultery

Aug 30, 2020

2020-08-30 – Todd Hobbie – Sighs too Deep for Words

Aug 23, 2020

2020-08-23 – Todd Hobbie – Create or Kill

Aug 16, 2020

2020-08-16 – Stan Davis – Enduring With Christ

Aug 9, 2020

2020-08-09 – Todd Hobbie – You Shall Not Steal

Aug 2, 2020

2020-08-02 – Todd Hobbie – Remember the Sabbath Day

Jul 26, 2020

2020-07-26 – Todd Hobbie – Taking God's Name in Vain

Jul 26, 2020

2020-07-26 — "Sunday Service Live!" 11:00 AM EDT